POPULAR CARTOON FONTS - Newly Listed MOANA FONT, Disney Inspirations and More
We have added a section of Cartoon Fonts which features many cute cartoon-inspired and movie-inspired fonts. Some of our cartoon inspired fonts include:
NEWLY LISTED - MOANA FONT - Inspired by the Disney movie, very popular!
Oh the Places You Will Go with the "Dr. Sue" Font which is inspired by the timeless Dr. Seuss text that we all recongnize from our childhood books and cartoons.
One of our customers made this pretty item below with the Dr. Sue Font (the lettering is from our Dr. Sue set, we did not sell her the hat image, but what a cute shirt she made!)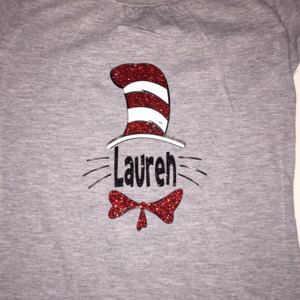 Other popular cartoon fonts/movie inspired fonts include the TROLLS Font, Mister Mouse, and the WALT Font. Check out our entire Kids & Cartoon Font collection section - we plan to add more cartoon fonts soon! Many of these will be exclusive to our website.
If you make something really cute, we love pictures! Send them to us at SVG DESIGNS (you can click on that hpyerlink to contact us)
HAPPY CRAFTING!
Disclaimer: These cartoon inspired font sets are items that we have created on our own and that were INSPIRED by different cartoon and TV themes. You are paying ONLY for our time involved in converting the fonts/images to vector file formats and any implied trademarks or copyrights belong to their prospective holders.